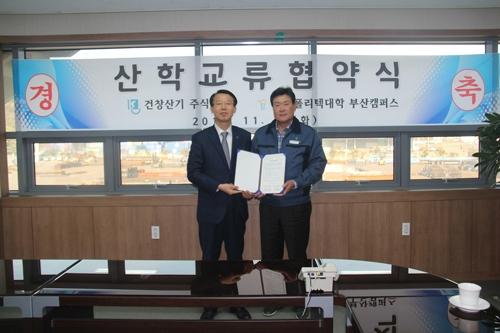 Korea Polytech College Busan Campus signed an MOU with Keon Chang IND. Co., LTD. to facilitate the Government 3.0 Cooperation Policy and organic mutual cooperation system between school and company.
This MOU is scheduled to include the parallel system with work and study, cooperative research projects, development of joint research projects, utilization of facilities and materials for experiment and exercise for the training of students' job skills, and employment partnership of graduated students.
This leading company is able to assemble about 1,700 tons of machinery such as steel mills, blast furnaces, environmental performance facilities and offshore facilities, and its main supplier is Mitsubishi and other Japanese companies.
The CEO, Jaesok Gwon, said, About 9 employees graduated from the polytechnic college have been working for 7 to 8 years, and the employee, Jung Su Mo( (64 years) also work hard with the attitude to study hard in spite of the fact that he is very old.", and "pointed out, "I hope that more students of the college apply for our company, and I make every effort so that they can actively use the parallel system with work and study."
The president, Do Jae Yoon, said, "The graduates of our college have very good attitude as they have received various humanities education as well as technology. "I hope that we will closely work together to make the system to cultivate people of talent with the parallel system.


Digital Media Center, news@busan.com